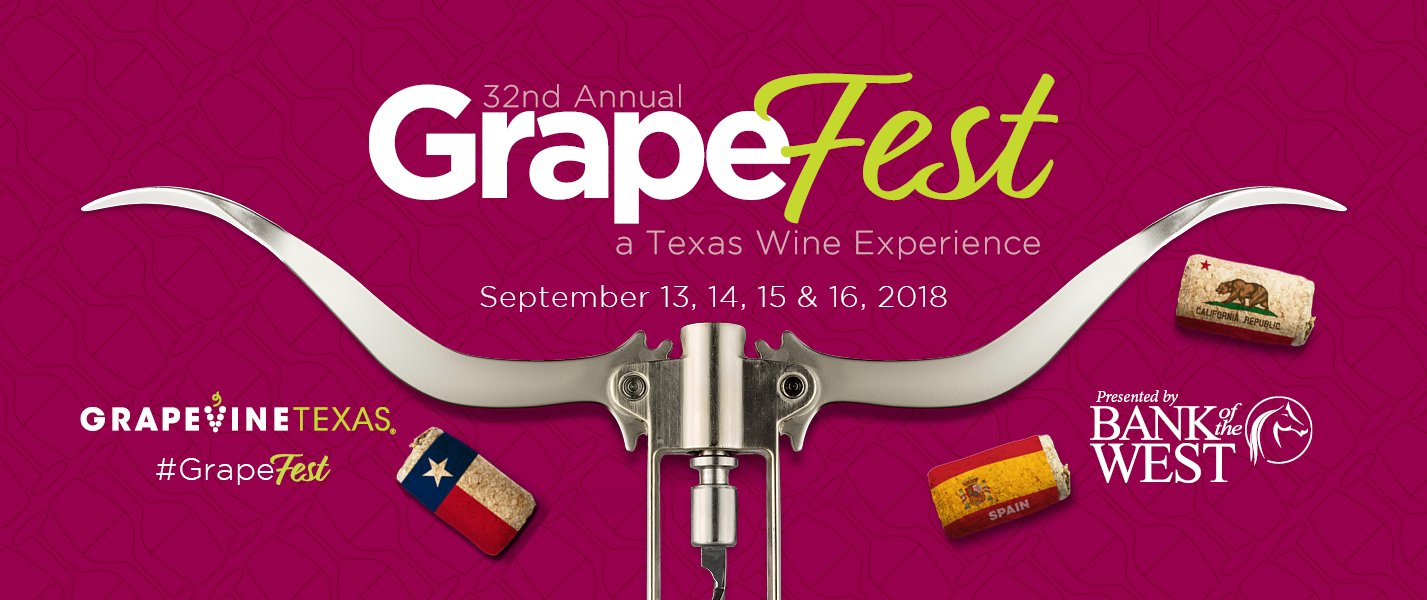 It's that time!!The 32nd Annual GrapeFest® – A Texas Wine Experience is just a few days away… This week All About Grapevine I will be sharing some of the fun and excitement that goes on at GrapeFest. If you can't wait and you want to buy tickets go here now!
---
---
Let's start with the entertainment! There is something for the whole family… Here is a location for the stages:
Grapevine Mills Main Stage – Located in the 500 Block at the intersection of Main and East Franklin Streets.
Thryv Gazebo Stage – Located in the 300 Block of Main Street.
Palace Theatre Stage – Located at 300 S. Main Street, at the intersection of Main and East Texas Streets.
That's not all though… as you stroll through GrapeFest you will encounter various both live entertainers and street performers. At Main Street Fest there was a traveling piano entertainer… so you never know what you will see. Even KidsWorld has live acts and live animals you can see as the SEA LIFE Grapevine Aquarium will be here! Don't forget about LEGOLAND® Discovery Center's Fun Builds.
Have you ever seen an artist with a chainsaw? Check out the Ice Carving demonstrations for some cool fun on Saturday and Sunday at 7 p.m. at S. Main St. and E. Texas St.
On the Carnival and Midway kids of all ages will love the fun games and awesome rides (Thursday ONLY you can buy a Unlimited Ride Pass).
Go here  to check out the wonderful food only found during GrapeFest… Plus, don't forget that all of the restaurants on Grapevine's Historic Main Street will be open during the festival.
The big reason many people attend GrapeFest if for the WINE! This the perfect time to sample the fruit of the vine.  As the fifth-largest wine producing state in the nation, Grapevine has earned its reputation as the headquarters of the Texas wine industry. Grapevine is home to a vibrant and growing Urban Wine Trail (I have talked about this on some of my previous All About Grapevine Blogs.) that offers daily wine tastings and special events throughout the year.
The main wine events at GrapeFest are People's Choice Wine Tasting Classic, Champagne Terrace, In the Liberty Park Plaza Wine Experience visit guest wineries from North Coast California and the Rioja Region of Spain, Grapevine's Urban Wine Trail, the Texas Wine Tribute and much more.
Go here to order your tickets for these opportunities as they do sell out quickly!
Make sure and check out the General information before you head to GrapeFest! This link includes Hours of operation, Parking, Shuttle Information, Gate Entry Rules, Social Media, Maps, Photo Policy, Coupon Policy, and much more!
Two events I am sure you will enjoy are the GrapeStomp and the Champagne Cork Shoot-Off. Get your feet purple is what I say… 🙂
Here are links for the complete daily schedule for GrapeFest!
In closing there are 3 things that make GrapeFest Fun for the whole family:
You
Make sure and be responsible during GrapeFest… be safe… have fun for the whole family… and other attendees!